Essay
Beyond Counting Accountability
Essay
Beyond Counting Accountability
Technology, particularly tech built and marketed by dominant, profit-driven companies, promises accountability at its core—that the more technological solutions there are, the more people, governments, and organizations will be accountable to each other. As dominant tech's attempts to create accountability through technology continue to grow, it is important to ask what accountability really means on the ground. I am interested in accountability as an ever-ongoing, shared process rather than an accountability that can be produced, engineered, or guaranteed. A more just tech can support us in this work. This is an accountability that is aware of time and place, that looks beyond the now, that is transnational, and that can support intergenerational accountability and repair.
The ideas of accounting and counting are central to accountability. Much of our current moment in dominant tech can be viewed through this accountability framework, whether trying to figure out whether a platform should be accountable for the spread of harmful content. Accountability is not evenly distributed, especially since the imagined "we" often only includes those of us who profit off ever more elaborate systems of accountability. Writing in this moment of overlapping, ever-ongoing crises, it can feel like there is an accountability vacuum. Accountability has historically been rendered as the cornerstone of liberal democracy, central to governance and how we are governed.[1]Craig T. Borowiak, "Accountability Debates: The Federalists, the Anti-Federalists, and Democratic Deficits," The Journal of Politics 69, no. 4 (2007): 998–1014, … Continue reading Attending institutions, groups, practices, and technologies have been shaped for the cause of accountability—from archives to courts that examine records, to numerous civil society and governmental organizations designed to provide oversight and auditing in what our social institutions are doing. In this accountability vacuum, dominant tech turns accountability into something that can be consumed, purchased, audited, and produced as a solution.
To illustrate the type of accountability we need, I want to tell you two stories of accountability at different scales, stitched together by dominant tech and the way it imagines relationships. These two stories remind us that a more just tech involves more than shifting our financial systems and includes social, cultural, and technical transformations that use technology to center community and sovereignty. And above all, a more just tech comes from new imaginings of relations and relationships and what it means to be in the right relation, beyond ideas of being in relation with others as transactional, commodifiable, or needing to be accounted for.  
The Imperative of Charting
The first story begins in Philadelphia, on a humid summer day during the 2021 Covid-19 Delta variant wave. I sit on the porch stoop of a brick row house with a friend who is a nurse at a local hospital. They describe how unvaccinated patients need to be intubated, and how their coworkers look up young, extremely ill Covid-19 patients on Facebook and see pro-Trump posts. They tell me their feelings of exhaustion, burnout, and, above all, the constant fatigue of charting, the practice of writing and keeping extensive patient records. They explain that charting is crucial to their job—typing in everything that the patient expressed and documenting any actions or recommendations they took, from ordering a new protocol or treatment to tracking whenever they conveyed information or even talked to the physician on duty.
As they are a registered nurse, the importance of charting had been emphasized to them during their education and on the job; electronic charting was emphasized as protection for nurses against being accused of malpractice, or in other cases they heard of nurses forgetting to chart when they spoke to the physician and having to take the blame for harmful physician decisions. Nurses learn to chart for assessment of "care quality" and "efficiency" by hospital administrators and for billing and accounting, particularly in state-funded healthcare systems where cost of care is cited as a barrier to the efficient spending of funds. These digital charts also hold enormous value in the new world of data-driven medicine, from diagnostic algorithms to predictive machine learning.[2]Fei Wang, Lawrence Peter Casalino, and Dhruv Khullar, "Deep Learning in Medicine—Promise, Progress, and Challenges," JAMA Internal Medicine 179, no. 3 (2019): 293–94, … Continue reading Digital charting, like so many technology-facilitated practices today, centers around the ever-elusive state of accountability. If we have enough charts, the logic goes, someone, somewhere will be made responsible for healthcare inefficiencies and inequities, rising costs, and the declining quality of care. Yet listening to my friend describe their day-to-day job, care and accountability sounded ever more elusive, lost in a network of care made unavailable to their patients once they left the hospital and in the lack of accountability that the hospital took for its workers' safety. This construction of accountability conflates counting and accountability, with the presumption that if enough records could be kept, responsibility in the healthcare system could become individualized. This construction of counting as sufficient for accountability has historical roots across numerous spaces and places, from plantations to land bureaus to laboratories, as scholars Katherine McKittrick, Jacqueline Wernimont, Ted Porter, and others have shown.[3]McKittrick, "Mathematics Black Life," The Black Scholar 44, no. 2 (2014): 16–28; Porter, Trust in Numbers: The Pursuit of Objectivity in Science and Public Life (Princeton, NJ: Princeton … Continue reading With the increase of digital charting and its attendant growth of digital health technologies, responsibility now shifts to patients as individuals, decontextualized from geographies and broader social systems. As investment into digital charting increases, where is the accountability we yearn for?
The Promise of Blockchain Accounting
On another side of the world, in the mountains of Guizhou, China, accountability is also the name of the game—here, using blockchain in a series of ambitious food safety projects, from tracking chickens to mushrooms, alongside Guizhou's Food Safety Cloud project. As China's agriculture has drastically industrialized over the past 30 years, small and medium farming operations have been put under enormous pressure to meet the demands of global agricultural trade agreements by consolidating their land or cutting costs while increasing yield. As food has become a commodity, food safety issues have proliferated through China, with global consequences—from fake eggs to adulterated infant formula. In 2008, during the Sanlu milk scandal where infant formula was tainted with melamine,[4]Changbai Xiu and K. K. Klein, "Melamine in Milk Products in China: Examining the Factors That Led to Deliberate Use of the Contaminant," Food Policy 35, no. 5 (2010): 463–70, … Continue reading the government claimed to have held Sanlu accountable by imprisoning several executives and sentencing a dairy farmer and milk salesman to execution. In an environment driven by financial incentives, blockchain has played a key role in promising accountability through immutable records and the endless chain of counting and accounting for.
Like healing, good accountability—the kind that is real and consentful—feels hard to find. Blockchain promises accountability, historically emerging alongside cryptocurrency. The system of blockchain was imagined as a space for trust and accountability in a highly scaled, anonymous fashion, its decentralized structure serving as an alternative to a system in which central powers could rarely be held accountable. But blockchain still relies on an elusive version of accountability that shifts the process of accounting from institutions to distributed nodes of counting and computing. The dream of blockchain is a kind of trust and accountability that binds people together. Yet technology alone can never address social questions.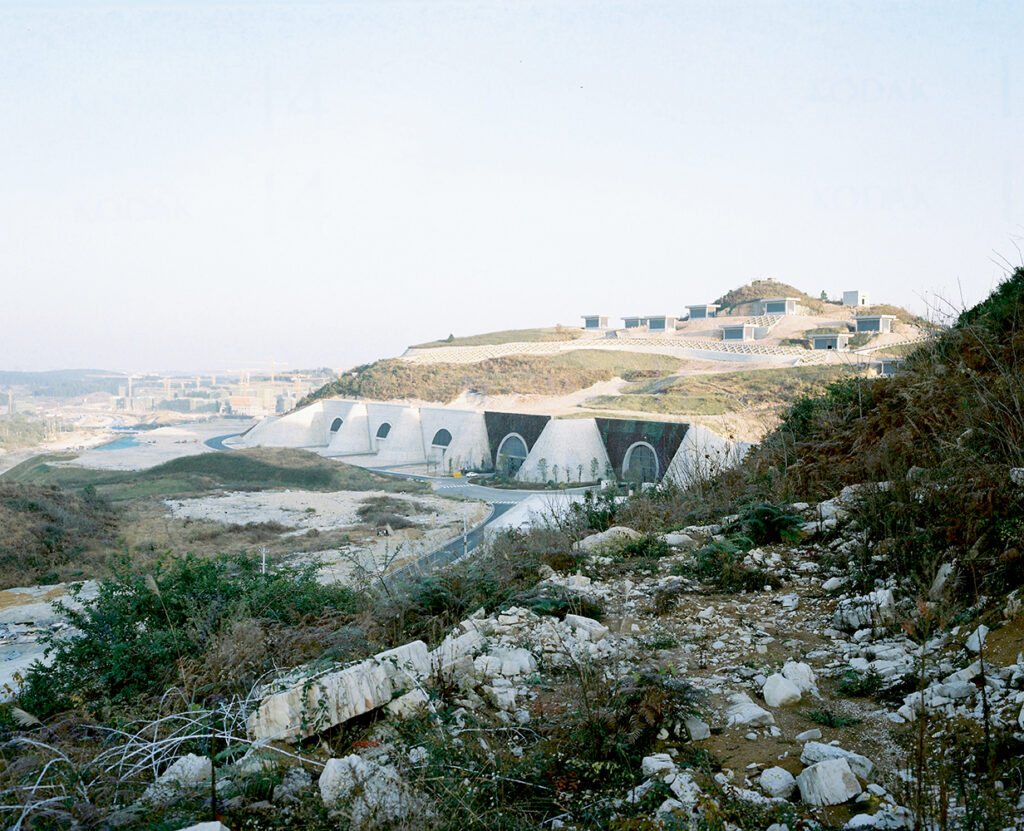 In the mountains of Guizhou, blockchain and big data economies have a physical footprint that illustrates their limited versions of accountability. Data centers are carved into the region's karst mountains, and this high-tech boom has now made land dispossession endemic, moving countless Indigenous groups into newly built relocation housing. As collectives like the Nomadic Department of the Interior have documented, these data centers and relocation housing settlements block ancient pathways that ancestral spirits walk along, changing traditional livelihoods and disrupting the delicate ecological interfaces between humans, agriculture, and wildlife. Such patterns of land dispossession and accelerated ecological shifts are not just confined to Guizhou. Globally, connectivity is produced through data centers located in similar rural places, and despite the promises of endless connectivity, capitalism and dominant tech come together to entrench the inequity that fuels dominant tech. It is through these conditions of uneven development through racial capitalism, as Robin D.G. Kelley reminds us, that dominant tech is able to hire ghost workers for low wages across the Global South or extract profit from those under surveillance.[5]Mary L. Gray and Siddharth Suri, Ghost Work: How to Stop Silicon Valley from Building a New Global Underclass (New York: Houghton Mifflin Harcourt, 2019) Where is accountability for those who do data labeling in Venezuela, working long hours to create training data for algorithms used in North America? 
Accountability Otherwise
In looking for other frameworks and visions of accountability, frameworks that go beyond those offered by dominant tech, I have been deeply inspired by the visions of accountability that transformative justice provides, from the work of activists such as Mariame Kaba and Mia Mingus. Mingus writes, "You cannot force someone to be accountable." In a community of accountability, taking accountability and taking responsibility is no longer punitive, but instead may even reaffirm a deeper set of relationships with each other or be enacted with a greater feeling of ease. This working definition of accountability requires a wholesale rethinking of how we build software, hardware, and online platforms. What does accountability look like in web3 if decentralized platforms by a network of people and communities are indeed part of future visions? What does software look like when it runs on hardware made from complex supply chains that are accountable to the workers and places that produce the physical components that allow our digital worlds to exist? When corporate platform structures exist to escape accountability, what other structures and processes form ways of being accountable?
I hope for a process of accountability that supports relationships and communities counter to these dominant patterns of capitalism and its cycles of disposability and creative destruction. I hope for an accountability that can move beyond governance and increase our capacities for relationships with each other. As bell hooks and Thich Nhat Hanh remind us, we need new vocabularies where justice does not hinge on flattening everything into sameness or erasing difference. In this way, I hope that a more just tech can support a vision of accountability that is not universalizing nor requires a sameness for the conditions of justice.
Accountability is a practice—both a noun and verb. It is a process that is done in community, and despite dominant tech's power, I feel deeply optimistic and inspired by countless collectives and projects that are already building models for a more just tech. Here are just a few examples: 
Activists at Stop LAPD Spying and Free Radicals remind us that the opposite of surveillance is relation, and it is through relation that such forms of accountability without surveillance might grow. Most recently, I am grateful for the Logic School space that I help steward, which provides a space to practice accountability regularly within the world of tech work. As a community-driven school, we meet weekly and remind each other that although we work for companies or institutions headed by executives, our accountability is to each other and to the communities we are part of outside of work, and we learn to care for each other in workplaces as the basis of organizing. While blockchain-enabled NFTs, profit-driven digital health, and data centers may promise us accountability or justice someday, a more just tech is not only possible—it is already being worked toward, every day.
Footnotes
References

↑

1
Craig T. Borowiak, "Accountability Debates: The Federalists, the Anti-Federalists, and Democratic Deficits," The Journal of Politics 69, no. 4 (2007): 998–1014,

https://doi.org/10.1111/j.1468-2508.2007.00603.x.

↑

2
Fei Wang, Lawrence Peter Casalino, and Dhruv Khullar, "Deep Learning in Medicine—Promise, Progress, and Challenges," JAMA Internal Medicine 179, no. 3 (2019): 293–94,

https://doi.org/10.1001/jamainternmed.2018.7117.

↑

3
McKittrick, "Mathematics Black Life," The Black Scholar 44, no. 2 (2014): 16–28; Porter, Trust in Numbers: The Pursuit of Objectivity in Science and Public Life (Princeton, NJ: Princeton University Press, 2020); Wernimont, Numbered Lives: Life and Death in Quantum Media (Cambridge, MA: MIT University Press, 2019)

↑

4
Changbai Xiu and K. K. Klein, "Melamine in Milk Products in China: Examining the Factors That Led to Deliberate Use of the Contaminant," Food Policy 35, no. 5 (2010): 463–70,

https://www.doi.org/10.1016/j.foodpol.2010.05.001.

↑

5
Mary L. Gray and Siddharth Suri, Ghost Work: How to Stop Silicon Valley from Building a New Global Underclass (New York: Houghton Mifflin Harcourt, 2019)