Essay
Introducing the 2023–2025 Just Tech Fellows
Essay
Introducing the 2023–2025 Just Tech Fellows
Introducing the 2023–2025 Just Tech Fellows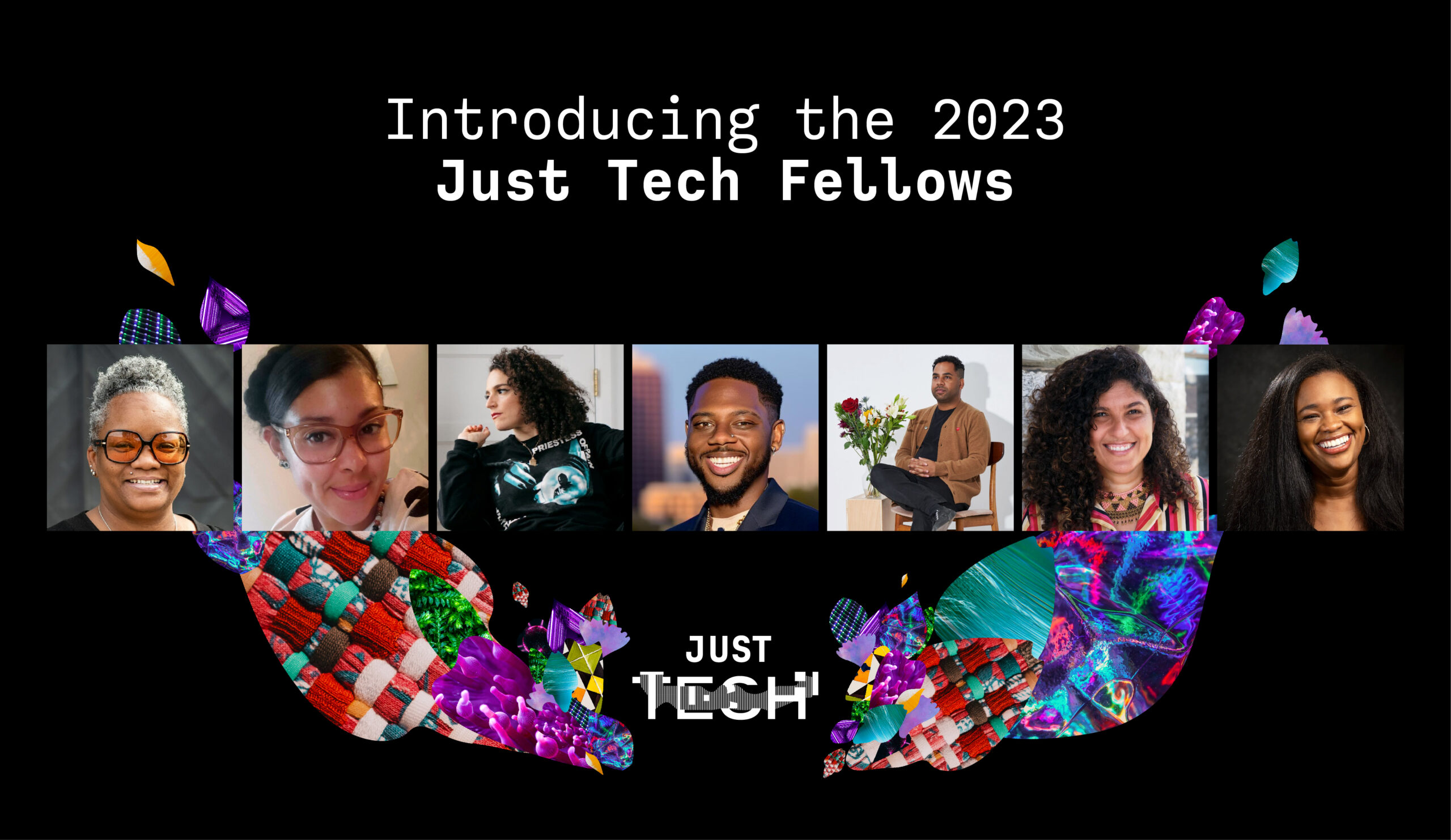 The Just Tech program, a Social Science Research Council (SSRC) project, announced its second cohort of Just Tech Fellows today. These seven visionaries—Tawana Petty, Johann Diedrick, Danielle Blunt, Adrienne Williams, Fernanda Rosa, Jay Cunningham, and Jess Moore Matthews—will each receive two-year fellowships to tackle complex issues at the intersection of tech and social justice.
The SSRC's Just Tech program foregrounds questions of power, equity, and the public impact of new technologies, investigating evidence of bias and harm while centering the perspectives of historically marginalized communities. The Just Tech Fellowship provides unrestricted awards over two years for researchers and practitioners imagining radically different tech futures that embrace joy, hope, self-determination, and equity. "I am so pleased to welcome this remarkable group of Just Tech Fellows in the Council's 100th anniversary year," said Anna Harvey, president of the Social Science Research Council. "The Fellows are doing innovative and impactful work to ensure that technological progress is both equitable and inclusive, and we're grateful to the Ford, MacArthur and Surdna Foundations, and the Democracy Fund for their 'whole person' unrestricted approach to supporting their work."
"I am truly excited to have the freedom to create and collaborate more deeply with my community in visionary ways," said Tawana Petty, an incoming 2023 Just Tech Fellow, social justice organizer, and poet. "I am also excited to build new relationships through the fellowship, while learning about the other Fellows' dreams for a just tech society." Just Tech builds on the SSRC's tradition of supporting research to advance the public good, while offering a new model for holistic support—designed not only to fund research but also to provide time and space for restoration, collaboration, and exploration.
Following a rigorous review of over 300 applicants by a team of 37 tech and social justice experts, Just Tech's Selection Committee—Lydia X. Z. Brown, Rumman Chowdhury, Stephanie Dinkins, Clementine Jacoby, Alex Gil, Charlton McIlwain, Desmond U. Patton, Dan O'Sullivan, Matthew Tamayo-Rios, and Nabiha Syed—selected seven outstanding Fellows who will work on issues ranging from surveillance, disability justice, data trust, racial bias in AI, and workers' rights.
"It's a fellowship unlike any fellowship I've ever experienced, and I've had the fortunate opportunity to have at least one or two other fellowships," said Kim Gallon, an inaugural Just Tech Fellow and associate professor of Africana studies at Brown University. "But what makes this fellowship so different is that baked into the fellowship is a community of spirit and care, not just for my work but also for me as an individual."
Meet the 2023–2025 Fellows:
Tawana Petty, an artist, social justice organizer, and author, will create a theatrical performance, popular education tools, and workshops engaging the conflation of surveillance and safety. Her project will leverage poetry and community stories to educate the public to think critically about policing technologies so they can advocate for themselves and create a just future.
Jess Moore Matthews, founder of Backbone Digital Leaders, endeavors to center disabled communities during the election campaign season. By privileging the voices of disabled volunteers and voters, Jess believes that we can identify and expand the digital organizing technologies that make campaigns, elected offices, and our communities more equitable and accessible for all.
Johann Diedrick, an artist and engineer, will examine the origins of racial bias in emerging speech AI. He plans to bring together a consortium of scholars, researchers, artists, and engineers to think holistically about AI bias and implement a new vision for AI-powered speech technologies that allows all voices to be heard.
Jay Cunningham is a computer scientist and AI and machine learning researcher. He will codesign a Black community-led research organization that equips communities with the knowledge, tools, and support to challenge racist assumptions in AI systems and the flawed data sets behind them.
Fernanda Rosa is a participatory design researcher and expert on internet governance and social justice in Latin America. Her work will focus on internet infrastructure and data sovereignty among Indigenous Tseltal and Zapoteco communities in Chiapas and Oaxaca (Mexico).
Adrienne Williams is a labor organizer and researcher with Distributed AI Research Institute. She will develop a calculator to quantify the wage theft inflicted on Amazon delivery drivers based on worker surveillance technology.
Danielle Blunt, a sex worker and cofounder/researcher at Hacking/Hustling, will investigate how criminalization is mediated by surveillance technology and how criminalized communities have adapted to shifting legal landscapes online.
The Just Tech program, including the digital platform and fellowship, is funded by a group of philanthropic foundations committed to cultivating critical work on the intersection of technology and social justice, including the Ford Foundation, the John D. and Catherine T. MacArthur Foundation, the Surdna Foundation, and the Democracy Fund.
For media inquiries or to reach the Just Tech team contact us at: (p) (718) 517-3637; (e) just-tech@ssrc.org.